I accept Paypal for online shopping!
OR Please call to order: 509-529-8018. I accept a postal money order and can let you know the total with postage.
Look for these products occasionally for sale on EBAY!
For Horses AND Dog Collars, too!
Won't scare your horse!
Easy-On Easy-Off Leather Horse Headstall or Pet Light Mount and Strobe Light: Fits English, & Western headstalls, places bright strobe light upon horse's forehead. Will also fit collars of medium to large sized pets! Includes genuine leather light mount, attachment VELCRO, one safety strobe light. Lights detach so that you may use different lights on the durable leather mounts! The strobe lights are a little over 2 inches in diameter, and we offer round, or star lights to choose from. These fasten on easily because Velcro is on the reverse side of the leather mount and catches to itself when you fold the mount over the headstall, harness or collar. These also work well on seeing eye dog harnesses where we suggest a light on each side of the dog.
Colors & Styles:
Plain Leather Mount: Black, Chocolate Brown, Medium Brown, Veg. Tan (you oil to match your tack), White.
Suede Leather Mount Colors in Stock:, Navy Blue, Chocolate Brown, Medium Blue .
Key Benefits
| | |
| --- | --- |
| | Does not scare horses! They don't see the red flash because horses do not see red! |
| | Alerts traffic up ahead and they can slow down to pass. |
| | Lights last approx. 100 hours on two watch batteries (included). Replacement batteries are available! |
Sales are limited to stock on hand. These leather mounts are handmade here.
Pricing
| Description | SKU # | Price |
| --- | --- | --- |
| Plain Leather Mount and Strobe Light | sku-7 | $12.95 |
| Suede Leather Mount and Strobe Light | sku-8 | $12.95 |
| Extra Batteries, set of two. | 5 | $3.00 |
| | |
| --- | --- |
| Leather Mount & Round Light | |
| | |
| --- | --- |
| Suede Leather Mount & Strobe Light | |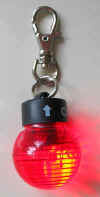 This globe shaped light is good for pets and is
offered on my "Small Strobe Light" page for pets, too!!