Return to Bright*Ideas Home Page
Thanks for stopping by!
Think about safety for you and your family this year! Please come back again, and tell your friends about our products!
Please call 509-529-8018 to order!
Click on the pictures to enlarge the photographs!
Links for you to explore include:
American Paint Horse Association
Bayequest "Regional directory for equine businesses
in the San Francisco Bay area and northern California."


Buy the Numbers Reflective numbers on posts & mailboxes.
Charlotte's Saddlery and Free Ezine
Equine Affaire: The Great Horse Exposition
Horse.net Gateway to the world of horses.
Mr. Horse World Equestrian Site
One-Stop Guide (hitches, etc.)
Pet Match (pet dating services)
Protect My Pet (pet safety vests)
The Judges Choice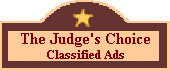 Webwalking: Volksware-Tshirts and gear for walking & hiking.
Wintersport (Outdoor winter sports site)
Worldwide Horseman's Directory
123Link - Marketing your business on the internet is as easy as 1-2-3. The 1st stop to start and promote your web site.
Return to Bright*Ideas Home Page
Bright*Ideas Enterprises website: www.beseenbesafe.biz